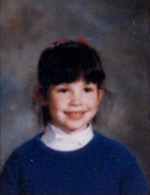 Nicole Evangeline Lilly was born on August 3, 1979, in the small prairie town of Fort Saskatchewan in Alberta, Canada. She is the middle child of three sisters. Her education was religious and solid. Her father was a home economics teacher, and worked as a produce manager at the Safeway. Her mother was a cler at Estée Lauder, and ran a daycare center out of the family home for some time, to support the family.
As a child, Evangeline was athletic and tomboy, known for climbing trees. That changed overnight, when she turned 16. From a gawky, freckle-faced, buck-toothed tomboy, she evolved into a beautiful, curvy woman. This caused her a lot of pain, since her male companions looked at her differently and her old friends hated her. She remembers: "I spent many nights crying myself to sleep wishing I was ugly because of the way men leered and disrespected me, because they assumed things about my mental capacity or my physical willingness based on the way I look".
Before leaving the town of Fort Saskatchewan for Abbotsford, British Columbia, Canada, Evangeline Lilly briefly attended three elementary schools, Fort Elementary, Rudolph Hennig and James Mowat Elementary. She founded and ran a world development and human rights committee while studying international relations at the University of British Columbia. In Abbotsford, Evangeline Lilly completed her high school years at W. J. Mouat Secondary School, and went on to study international relations at the University of British Columbia in Vancouver.
Born in a low income group family, she supported herself financially from the age of 15. She taught in the local Sunday school for eight years, and also served as a foreign missionary in the Philippines where she lived in a grass hut. She was offered permanent missionary work there for two years, an offer she nearly accepted but eventually declined because of her parents' wishes. After her time in the Philippines, she worked briefly as a flight attendant with Air Canada, which is the reason for why she is fluent in the French language.  She also worked at Green Bay Bible Camp near Kelowna and at the Earls Restaurant in Abbotsford. To fund her university education, Evangeline also did TV commercials (e.g. "LiveLinks Chatline") and modeling although she never considered herself a model.
EARLY CAREER
Evangeline was discovered by a Ford talent agent on the streets of Kelowna, British Columbia, in South-west Canada. She was offered a contract, and although she liked to act, she had no interest in being a model or being a celebrity, then rejected the offer to sign with the agency. Six months later, Evangeline moved to Vancouver to attend the University of British Columbia and decided to sign with Ford to help pay for tuition.
Since then, she has been appearing in some commercials and as an extra in series and movies. Among them, an episode of the Stephen King's Kingdom Hospital and the movie The Long Weekend. She also starred as an extra in The Lizzie McGuire Movie, where she portrayed a police officer, as background girls in three different episodes of Smallville and as a school student in the film Freddy VS. Jason.
And even though she felt satisfied working as an extra because she thought Hollywood was not for her, a friend challenged her to aspire to more.
WORLDWIDE STAR
In January 2004, Evangeline attended partial auditions for the first time and in March 2004 she was doing the pilot program for Lost. The producer J.J. Abrams saw Lilly's audition tape just two weeks before shooting was set to begin on the pilot, after rejecting countless actresses for the lead role of Kate Austen. Thanks to this, in 2005 it was cataloged by Maxim magazine as the second sexiest woman in the world, behind the also actress Eva Longoria. She has also been named "one of the 50 most beautiful people" by People magazine. She was also nominated for a Golden Globe for Best Lead Actress-Drama, for Lost, on 14th December, 2006.
When asked a year later how it felt to have landed the role, Lilly replied, "I love it. I LOVE it! I love acting, being paid to be creative. I've always been really passionate about the arts. But I also constantly yo-yo between wanting to do this for a long time, wanting to achieve a certain level of respect in this industry, and then at the other end of the scale wanting to run for the hills screaming "this is terrifying and I want out."
After the end of Season One of the series, Lily moved to Rwanda, to help a friend with some missionary work. This sudden move was attributed to her Christian morals being rankled by what she saw around her in Hollywood. She returned to continue filming Season Two of Lost.
In 2007 she was nominated for a Saturn Award for Best Actress in a Television Series, Lost. In addition as a result of its outstanding act, Entertainment Weekly has voted Evangeline Lilly as one of the revelation stars of 2004.
When Evangeline  was cast as Kate in Lost, her main concern was acquiring a work visa to enter the United States (U.S.). With production literally days away and no news about the visa, casting directors were forced to grudgingly begin re-casting the role of Kate. After nearly 20 auditions, Evangeline Lilly's work visa was approved/cleared but she arrived on set a day late.
In 2008, Lilly appeared in the Academy Award-winning film The Hurt Locker. Lilly followed this role with a leading part in psychological thriller film Afterwards. In 2010, Lilly stated her intention to focus on children's book writing and on feature film roles.
On May 11, 2010, Lilly announced on The View that she places writing and being a mother as top priorities, but she likes acting as a day job and she will continue acting when possible. In 2011, she appeared as Bailey Tallet in Real Steel. Despite having turned down a number of film offers, she traveled to Los Angeles to get the part after director Shawn Levy sent her the script.
In 2012, Lilly was cast as the Mirkwood elf Tauriel in Peter Jackson's three-part adaptation of J. R. R. Tolkien's The Hobbit. The character, which does not appear in the original book by Tolkien, was created by Peter Jackson and Fran Walsh as the head of the Elven guard who wields a bow and two daggers as weapons. Lilly, who had been a fan of Tolkien's books since she was 13, underwent training for swordplay and archery, as well as in the Elvish language for the role. In 2015, Lilly played Hope van Dyne in the superhero film Ant-Man. In October of the same year, it was announced that Lilly would reprise her role in the sequel, Ant-Man and the Wasp, Marvel's first movie to feature a female hero in the title.
LITERATURE
In June 2010, Lilly announced on The Late Late Show with Craig Ferguson that she would be writing a children's book, reciting some of the story from the book to Ferguson on the show.
On July 18, 2013, Lilly debuted the book, titled The Squickerwonkers. The release event was held at the 2013 San Diego Comic-Con International, where she attended a book signing for the work in addition to providing a reading performance. Lilly has stated that the idea for the book first came to her when she was 14 years old. The foreword to the book was written by director Peter Jackson. She described the work as "a graphic book series designed for children", stating that the book is about a young girl who joins a group of characters she described as "this family, the Squickerwonkers, and they're strange outcasts who all have very particular vices".
Lilly has stated that future books will each reveal a new Squickerwonker character and unique vice, which will eventually become the undoing of the character. The illustrator for the book is Johnny Fraser-Allen of Weta Workshop, a New Zealand-based concept design firm that worked on films including The Hobbit. Lilly stated that the goal was to "make a book that we would like to have read as children and that we would still enjoy as adults today".
PERSONAL LIFE
Lily never speaks about her personal life and is known to guard it zealously. British tabloids have reported that she was once married to Canadian hockey player Murray Hone and has divorced him around the time she left Canada for the Hawaiian set of Lost.  She was also rumored to be dating her Lost co-star and Lord of the Rings star Dominic Monaghan. Lilly's house in Kailua, Hawaii was completely destroyed by fire, caused due to an electric problem, while she was on the Lost's set, on 20th December, 2006.
She does not appear in a nude scene or perform in sexual scenes, which she feels would do no justice to the character she is playing. She fights hard to maintain her balance and avoid the trappings of her celebrity status. She finds her image, as a sex symbol, very disturbing.
Fluent in French, Evangeline loves reading, writing, painting, music, nature, staying active, learning, tea and travel.Between acting and modeling, Lilly spends her spare time ice-skating, canoeing, kayaking, snowboarding and rock climbing.
Evangeline welcomed her first child with boyfriend Norman Kali, production assistant for Lost, in May 2011, and in 2015 she gave birth to her second child.
ENDORSEMENT & PHILANTHROPY
When not in Hawaii filming the show, Evangeline is wholeheartedly devoted to philanthropy, travelling and gaining a higher knowledge of various cultures around the world.  She has been a volunteer for children's projects since the age of 14.
Evangeline Lily is one of the new faces of the L'oreal brand. She also endorses a fragrance line for cosmetics giant Coty Prestige, promoting the fragrance Davidoff Cool Water Woman. She has joined Baume & Mercier & Me campaign, which belongs to the Swiss Watch brand, recognized internationally for its humanitarian values.
Lily is involved in a video Just Yell Fire, aimed at teaching teenage girls, different ways to defend themselves against rapists. She travels a lot between her shoots to understand and work towards the betterment of mankind. She participates in many missionary programs. She has teamed up with eBay Giving Works and a charity Task Brazil, to auction lingerie, to support Brazilian kids living in the slums from its proceeds.