Yesterday, Evangeline and Paul Rudd attended press conference of director Peyton Reed's movie 'Ant-Man and the Wasp' in Taipei, Taiwan of China. You can check out the photos below.
"We pick up the story 2 years after the first Ant-Man movie ended and so there's been a lot of healing and a lot of growth that's gone on. We're on much better terms and Hope is in a much better place personally. Not just because she's in a better place with her father, but also because her lifelong dream of taking up the mantle her parent's carried of being a superhero has also come true," reflects Lilly.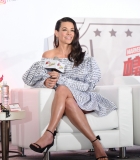 » Appearances > 2018 >
Jun 12 | "Ant-Man and The Wasp" Press Conference
Comicbook.com released a new trailer for "Ant-Man and The Wasp". Look at it below!
Disney Parks have officially announced that a special sneak peek at Marvel's Ant-Man and the Wasp will begin to screen for guests at Disneyland Park in Anaheim, CA from June 8 to July 15, 2018.
The footage for Ant-Man and the Wasp will be shown on rotation at the Tomorrowland Theater, which is currently home to Star Wars: Path of the Jedi. Both Disneyland and Disney California Adventure Park have had sneak peeks at Marvel films such as the first Ant-Man, Guardians of the Galaxy and Doctor Strange. 
Ant-Man and the Wasp is the latest film in the Marvel Cinematic Universe that reunites audiences with Scott Lang (Paul Rudd) and Hope Van Dyne (Evangeline Lilly) as they work together as Ant-Man and the Wasp respectively for a brand new mission. The film is expected to address the fallout of Avengers: Infinity War and give audiences an explanation as to why this titular duo was absent from the events of that film.
Here is the synopsis for Ant-Man and The Wasp: 
From the Marvel Cinematic Universe comes a new chapter featuring heroes with the astonishing ability to shrink: "Ant-Man and The Wasp." In the aftermath of "Captain America: Civil War," Scott Lang (Rudd) grapples with the consequences of his choices as both a Super Hero and a father. As he struggles to rebalance his home life with his responsibilities as Ant-Man, he's confronted by Hope van Dyne (Lilly) and Dr. Hank Pym (Douglas) with an urgent new mission. Scott must once again put on the suit and learn to fight alongside The Wasp as the team works together to uncover secrets from their past.
Directed by Peyton Reed, Ant-Man and the Wasp stars Paul Rudd as Scott Lang, Evangeline Lilly as Hope Van Dyne, Michael Douglas as Hank Pym, Michael Peña as Luis, David Dastmalchian as Kurt, Judy Greer as Maggie, Randall Park as Agent Jimmy Woo, Laurence Fishburne as Dr. Bill Foster, Walton Goggins as Sonny Burch, Hannah John-Kamen as the Ghost, and Michelle Pfeiffer as Janet van Dyne.
Ant-Man and the Wasp will be released in theatres on July 6, 2018.
– Source: Heroic Hollywood
Evangeline Lilly, who stars as the Wasp in Marvel's upcoming Ant-Man and the Wasp, revealed that she flayed the skin off both of her forearms during a stunt that went wrong several years ago on the set of Lost. "There were open wounds, pus-y and oozing," she said during a panel discussion Wednesday night on the Fox lot about women in the stunt business. "I looked like a mutant. My mom said, 'You'll never be able to wear an evening gown again!'"
Lilly also made it clear that the accident was no accident, accusing an unnamed stunt coordinator — who she described as "misogynistic" — of punishing her for defying his wish to have a stuntwoman do the stunt. It involved rolling off a thick tree branch high above the ground and hanging on for dear life, though there was no risk of falling because she was safely harnessed to the branch.
Lilly said she asked to have moleskin – a light fabric used to prevent abrasions – wrapped around her forearms, but the coordinator said no. "They'll see it," he said, though she was sure it wouldn't show on screen. So she did the stunt bare-armed – over and over and over again. And each time the rough bark ripped off more of her skin. And after each take, New Skin – a liquid-bandage brand – was painfully applied to the wounds, and then the coordinator would send her back up the tree to do it again and again and again, each time more painful than the last.
"I felt it was him saying, 'I'm going to put you in your place for standing up to me,'" she said. "It was either cow to his power or hurt myself. I was in my 20s then. Now, I would probably back down."
Injuries are part of the job, though rarely are they intentional. A more common complaint by stuntwomen is the discrimination they face on the job – or not getting jobs at all.
Lilly was joined onstage by Ingrid Kleinig, her Ant-Man and the Wasp stunt double, and by three other stuntwomen, who among them have more than 75 years of stunt experience. They've rolled cars, fallen 80 feet through fire, rappelled down buildings and worked on some of the biggest action films produced in recent years.
But Deven MacNair said her most risky move has been speaking out against "wigging," the age-old practice of stuntmen donning wigs and women's clothes to double for actresses. And she's done more than just complain – she alerted her union and filed an EEOC complaint. She was accompanied to the event by her attorney, Brenda Feigen, who's trying to get more stuntwomen to come forward to file a class-action lawsuit.
"That was my greatest stunt," MacNair told the audience, noting that speaking out has hurt her career. Wigging, she said, "robs us of our pension and health, robs us of the experience we need to get the next job." Then she pointed in the audience to veteran stuntwoman Julie Johnson, who MacNair said "has been fighting this since the 1970s." […]
– Source: Deadline