Yesterday, Evangeline and her partner Paul Rudd attended the premiere of "Ant-Man and The Wasp" in Taipei, Taiwan, China. During the event both signed autographs and interacted with the fans for approximately one hour and 20 minutes before making their way to the stage. In addition, they talked about the movie, and Evangeline (The Wasp) talked about her suit, saying:
"I love my super suit. I love my super suit so much that when we were filming, I never took it off. I slept in my suit. I ate in my suit. I bathed in my suit. I only took it off when the filming ended and i still put it on sometimes just for fun."
» APPEARANCES > 2018 > 
Jun 13 | "Ant-Man and The Wasp" Taiwan Premiere
Yesterday, Evangeline and Paul Rudd attended press conference of director Peyton Reed's movie 'Ant-Man and the Wasp' in Taipei, Taiwan of China. You can check out the photos below.
"We pick up the story 2 years after the first Ant-Man movie ended and so there's been a lot of healing and a lot of growth that's gone on. We're on much better terms and Hope is in a much better place personally. Not just because she's in a better place with her father, but also because her lifelong dream of taking up the mantle her parent's carried of being a superhero has also come true," reflects Lilly.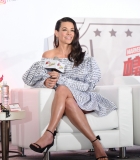 » APPEARANCES > 2018 >
Jun 12 | "Ant-Man and The Wasp" Press Conference
Last month, Evangeline spoke with Entertainment Weekly about her upcoming film "Ant-Man and The Wasp" and revealed her character's arc. Read below what he said. Also the site (EW) published two new exclusive photos, which you can see below.
Evangeline Lilly's Hope van Dyne (a.k.a. the Wasp) may share the power of miniaturization with Paul Rudd's Scott Lang (a.k.a. Ant-Man) in Ant-Man and the Wasp. The Wasp is, after all, the first female superhero to appear in the title of a Marvel Cinematic Universe film. "It means a lot to me," says Lilly. "If I'm honest with myself, I feel a lot of pressure to make sure that it is everything that the world wants it to be."

The film concerns the quest by van Dyne, Lang, and scientist Hank Pym (Michael Douglas) to rescue Janet van Dyne — that's Hope's mother and Hank's wife — from the Quantum Realm, an alternate dimension into which she disappeared decades previously. "Scott entered the Quantum Realm in the first film and came back, which is something they thought was impossible," says Lilly. "The question has arisen, 'Can Janet come back?' So the entire film, my character is hell-bent on finding a way to get into the Quantum Realm and bring her back."

Source: EW
Marvel Studios yesterday released the second trailer of the long-awaited movie "Ant-Man and The Wasp" starring Paul Rudd as Ant-Man and Evangeline Lilly as The Wasp. See it below. Also check the screenshots in the photo gallery!
» MOVIES > ANT-MAN AND THE WASP (2018) > 
Screencaptures: Trailer #2