Ant-Man and the Wasp is coming out in just a few weeks – in the US, at least.

Fans in the UK are used to getting their Marvel Studios movies a day or two earlier than their Stateside friends, but the people at Disney have decided the Brits have to wait an entire month for the size-changing superhero sequel.

Stars Evangeline Lilly and Paul Rudd aren't happy about the gap, because impatient fans will end up watching the film illegally in rubbish quality.

"They always do that," the Wasp actress Lilly told Empire magazine of the late release.

"Then what happens is people just pirate the movie and they see it in the worst way possible, like some shitty version online, instead of going to a theatre.

"They go in the end, but I don't like that staggering. I'm really going to get to the bottom of this for you. I'm as pissed off about it as you are."

Rudd added: "I don't understand. Let me see if we can maybe get the World Cup moved."

Good luck with that Paul, people reallylove their football, even though people constantly complain about the performance of the players (as if they could do any better).

Ant-Man and the Wasp releases in UK cinemas on August 3, while the US gets it on July 6.

– Source: Digital Spy
Yesterday, Evangeline and her partner Paul Rudd attended the premiere of "Ant-Man and The Wasp" in Taipei, Taiwan, China. During the event both signed autographs and interacted with the fans for approximately one hour and 20 minutes before making their way to the stage. In addition, they talked about the movie, and Evangeline (The Wasp) talked about her suit, saying:
"I love my super suit. I love my super suit so much that when we were filming, I never took it off. I slept in my suit. I ate in my suit. I bathed in my suit. I only took it off when the filming ended and i still put it on sometimes just for fun."
» Appearances > 2018 > 
Jun 13 | "Ant-Man and The Wasp" Taiwan Premiere
Yesterday, Evangeline and Paul Rudd attended press conference of director Peyton Reed's movie 'Ant-Man and the Wasp' in Taipei, Taiwan of China. You can check out the photos below.
"We pick up the story 2 years after the first Ant-Man movie ended and so there's been a lot of healing and a lot of growth that's gone on. We're on much better terms and Hope is in a much better place personally. Not just because she's in a better place with her father, but also because her lifelong dream of taking up the mantle her parent's carried of being a superhero has also come true," reflects Lilly.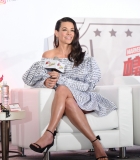 » Appearances > 2018 >
Jun 12 | "Ant-Man and The Wasp" Press Conference
Comicbook.com released a new trailer for "Ant-Man and The Wasp". Look at it below!