Last month, Evangeline spoke with Entertainment Weekly about her upcoming film "Ant-Man and The Wasp" and revealed her character's arc. Read below what he said. Also the site (EW) published two new exclusive photos, which you can see below.
Evangeline Lilly's Hope van Dyne (a.k.a. the Wasp) may share the power of miniaturization with Paul Rudd's Scott Lang (a.k.a. Ant-Man) in Ant-Man and the Wasp. The Wasp is, after all, the first female superhero to appear in the title of a Marvel Cinematic Universe film. "It means a lot to me," says Lilly. "If I'm honest with myself, I feel a lot of pressure to make sure that it is everything that the world wants it to be."

The film concerns the quest by van Dyne, Lang, and scientist Hank Pym (Michael Douglas) to rescue Janet van Dyne — that's Hope's mother and Hank's wife — from the Quantum Realm, an alternate dimension into which she disappeared decades previously. "Scott entered the Quantum Realm in the first film and came back, which is something they thought was impossible," says Lilly. "The question has arisen, 'Can Janet come back?' So the entire film, my character is hell-bent on finding a way to get into the Quantum Realm and bring her back."

Source: EW
A few hours ago, Evangeline attended the premiere of Avengers: Infinity War in Los Angeles. She arrived with a beautiful a low-cut yellow and lace top with matching trousers, adding oversized earrings. She posed with Chris Pratt and took pictures with the fans. Visit the gallery and see all the photos added about this event held at the El Capitán Theater, and come back later to see more!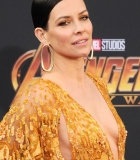 » Appearances > 2018 > Apr 23 | "Avengers: Infinity War" Premiere
Evangeline was seen strolling the streets of Larchmont with a friend in Hollywood, CA on April 19. Check the gallery to see the latest photos added!
» Candids > 2018 > Apr 19 | Strolling through Larchmont with a friend in Hollywood, CA